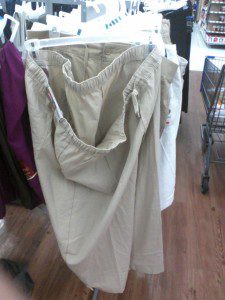 Hey, come on! Lighten up. Where I come from, lots of us wear these, especially if we are……say………over 50.  They are comfortable, double-up as shorts (at least, as 'short' as we'd like them to be!) and have that loosey-goosey waist band. Now, if you're comfortable fitting into these, by all means, do.
If, on the other hand, you often wish for a size or two smaller, listen up.
Sounds like I'm dissin' ya, doesn't it? Maybe, like me, you're one of those 'what you see is what you get' kind of girls.
We buy into face book posts like:
I'M LOVABLE JUST THE WAY I AM!
or
ADORE YOUR BODY! FEEL YOUR BEAUTY FROM THE INSIDE OUT!
And so on. You know what? Those posts are correct. We need self-confidence. But sometimes, we need the confidence to explore uncharted waters, change and grow.
You knew it all the time! I'm chastising you, once again, for looking less than perfect! 
You can move on if you like. No one's keeping your finger off that mouse.
Or, you could stay here and find out the simple KEY to living your life the way you want to live it. The key is accessed all the time! It's used by handicapped people, spirit-seeking people, athletes, corporate presidents, musicians.
It is YOUR WILL.
Oops! We're back to will-power! I refuse to go there!
I didn't say will-power. I said YOUR WILL. Your will is something you have. Power is something you may not think you have. Some of you, I regret to say, do not even exert power over the yapping family chihuahua. So the insertion of power-talk here may be premature.
Any human endeavor of value or skill takes the WILL to persevere. Not one able musician ever became that by 'liking music'. No athlete ever became one by attending tail-gate parties.  No handicapped person ever sat in a wheel chair and dreamed her way to success.
No one ever sought God and found Him by giving up when opposed.
'Opposition and resistance will either make you stronger or destroy your life.
Any bodybuilder will tell you that the only way to develop strong muscles is through resistance. It is actually the breaking down of that muscle that enables it to bounce back larger and with more mass.' Troy Anthony Smith
These endeavors take incredible dedication and will. They also involve TAKING AUTHORITY.
Over?
Your own body. If I can't tell myself what to do, why should I be trusted to instruct others…..even the family dog?
So what? I mean, I take authority when I need to! I mean, I give the kids advice, I tell the cleaning lady what to do. I tell the garage mechanic what to fix on my car.
If you are cruising around in a site called Good Lookin' Old Women, you might be going that way, yourself. You might be just a little older that 45. That said, your body is at risk for those life-style linked diseases. You may even have acquired one.
Might there be a solution to that misery besides expecting to take medication and living with it?
You have the answer within you.
YOUR WILL.
TAKE AUTHORITY.